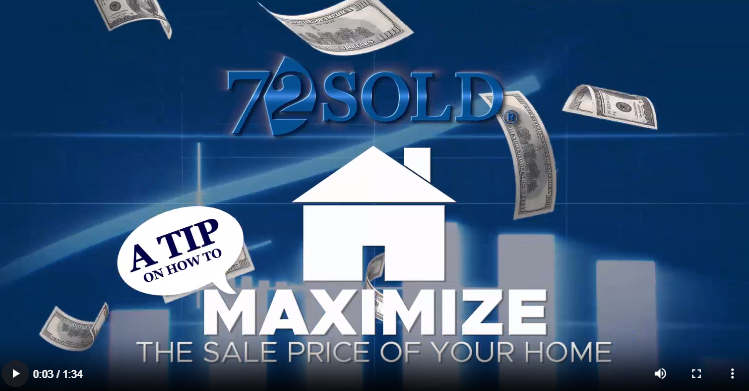 MAXIMIZE The Sale Price Of Your Home
Most home sellers would like to maximize the sale price of their property, but do not know how. There are a few tricks to that art, and we will look at a few of them in the 72SOLD series of videos. 72SOLD is a specific methodology, a more advanced practice of marketing homes, that is similar in some ways to the Agile methodology.
Tip #1 Maximizing the number of home buyers who want to know more about your home
In this fast-moving day and age, it is possible to flush out all the potential buyers shopping for homes like yours quickly – in fact, in less than 72hours. The faster you start to receive offers, the more likely you will get into a multiple offer scenario which is the key to getting the MAXIMUM price on the home.
---
Tip #2 Each home showing should be treated as an opportunity to maximize the sale price
Most traditional real estate agents put a lockbox on your door and then never attend a single showing with the buyers. That mistake alone may cause the home seller to lose TENS OF THOUSANDS OF DOLLARS by not getting the most out of the opportunity to pitch the property to the buyer face-to-face. The 72SOLD process recommends a structured and time-proven 7-step showing process to make sure the seller agent to can ask the buyers specific questions that could lead to a higher offer price.
---
Tip #3 Most offers can be negotiated up, if you know how to ask the buyers for a higher price
Taking about leaving the money on the table! It is sad how much money is lost by the sellers during the initial offer negotiation process. Very few buyers make their first offer the best offer that they can make. Most of them would agree to pay more. In this video, Greg Hague discusses the 5 gentle probing questions that could reveal just HOW MUCH MORE the buyers could pay, if asked.
Want to learn more tips on the best home selling techniques? Ask for a 20-minute private video that spills the hidden tricks that most Realtors do not even know about!
---
72sold advertising opportunities blog buy4cash cash offers dfw housing market update financial fitness for buyers for homeowners for investors for renters for sellers holidays houses industry news itin knowledge articles legal and financial market updates monthly updates mortgage owner financed houses rent-to-own seller financed houses selling as-is stats stats and trends taxes tips and tricks videos videos for home buyers videos for investors videos for sellers