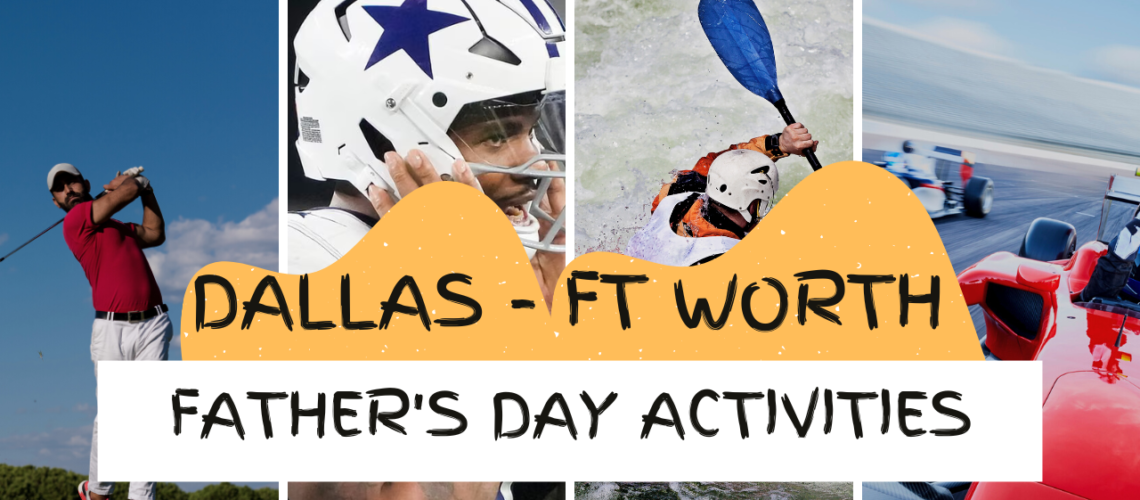 8 Exciting Father's Day Activities in Dallas, Texas: Bonding Ideas for a Memorable Celebration
Help me to share the message!
by Elena Garrett, June 2023
There are several events and activities you can consider taking your Dad to on Father's Day in Dallas, Texas. Here are a few suggestions:
Dallas Arboretum and Botanical Garden: Does your Dad prefers low-key settings? Is he into gardening? Take your Dad for a stroll through the beautiful gardens, enjoy the scenic views, and relax in the tranquil surroundings.
Dallas World Aquarium: Does your Dad loves science, nature, and sea life? Explore the underwater wonders with your Dad at the Dallas World Aquarium. Discover a variety of marine life, birds, and other fascinating creatures.
Dallas Museum of Art: If your Dad has an appreciation for art, visit the Dallas Museum of Art, which features an extensive collection of artworks from various cultures and time periods.
Dallas Farmers Market: Is your Dad a foodie or a whole food enthusiast? Treat your Dad to a food-filled day at the Dallas Farmers Market. Enjoy fresh produce, local vendors, delicious food stalls, and perhaps even a cooking demonstration or workshop.
Trinity River Kayak or Paddleboard Adventure: Does your Dad loves adventure and teamwork play? Embark on an outdoor adventure with your Dad by renting kayaks or paddleboards to explore the Trinity River. It's a great way to bond and enjoy nature together.
Dallas Cowboys Stadium Tour: If your Dad is a football fan, surprise him with a tour of the iconic AT&T Stadium, home of the Dallas Cowboys. Explore the stadium, visit the locker rooms, and walk on the field.
Golf Outing: This one is an all-time favorite! Treat your Dad to a round of golf at one of Dallas' many golf courses. Spend quality time on the greens and enjoy a friendly competition together.
Texas Motor Speedway: If your Dad is a racing enthusiast, check if there are any exciting events happening at the Texas Motor Speedway. You can catch thrilling races or even book a driving experience for him.
Remember to check the availability, timings, and any reservation requirements for the specific events or activities you choose. Additionally, consider your Dad's interests and preferences to select an experience that will truly make his Father's Day memorable.
#FathersDayDallas #DadDayOut #DallasActivities #FamilyBonding #ExploreDallas #QualityTime #DallasAdventures #DadsAndNature #DallasCulture #SportsEnthusiast #GolfWithDad #ArtAppreciation #FoodieFathers #DallasAttractions #MemorableExperiences
---
72sold advertising opportunities blog buy4cash cash offers dfw housing market update financial fitness for buyers for homeowners for investors for renters for sellers holidays houses itin knowledge articles legal and financial market updates monthly updates mortgage owner financed houses rent-to-own seller financed houses selling as-is stats stats and trends taxes tips and tricks
Help me to share the message!