181 Colonial Drive Mabank TX – OOS
Help me to share the message!
Dear Realtors,
Are you looking to get referral commission any time one of your clients buys a property in Texas? If yes, I am here to help. Let's chat (469) 371-4961 (Elena Garrett, TX Realtor)!
In the meantime, here is an immediate opportunity for you to test who in your network are THINKING about buying a house in Texas. I am a listing agent on a great, brand-new home in Texas that might catch the eye of someone in your database.
Feel free to copy and share the text, the pictures, and the video on the social media or among your prospects. As a listing agent for this property, I am giving my permission for you to use these images, videos, and texts.
In the image, if you want to add your phone number or to change up the text, feel free to do so.
PROPERTY:
181 Colonial Dr, Mabank, TX 75156 – $724,000 – a 4/3 home on the golf course lot minutes from a beautiful lake near Dallas
North Texas MLS #20384620
Zillow link: https://www.zillow.com/homedetails/181-Colonial-Dr-Mabank-TX-75156/2087940814_zpid/
YouTube video of the property: https://youtu.be/lzdHgtBU0cw (feel free to share on social media)
YouTube video of the unique Pinnacle Golf and Boat Club in Mabank, TX: https://youtu.be/oCoDm5RyopM (feel free to share on social media)
THIS POST BELOW CAN WORK WELL FOR FACEBOOK AND INSTAGRAM
Are you dreaming of owning a vacation home that combines affordability, adventure, and a vibrant lifestyle 🏌️‍♂️⛳️?
Look no further! 🚤🌄
🏖️ This beautiful home in the Pinnacle Golf and Boat Club community on Cedar Creek Reservoir just an hour from Dallas, TX offers a paradise for those who love being close to nature! 🌳🏞️
🎉 Endless Adventures: Create unforgettable memories with abundant outdoor activities. Whether it's boating, fishing, hiking, or golfing right outside your back yard, this community offers something for every adventurer in your family. ⛳️
💼 Good Investment into the Sizzling Texas Market: Texas boasts a robust economy with a fast appreciating Dallas real estate market. Make your vacation home a great investment as well as a source of great family memories for years to come!
🚗 Easy Travel Connections: With convenient access to neighboring states and to Mexico, you can make the most of your Texas lakeside getaway when traveling to other exciting destinations! ✈️🗺️
🏡❤️ Discover the perfect vacation home in this amazing Texas lakeside community.
📞 Call / Text for details! 📲 NAME, PHONE 🏠
Facebook Image: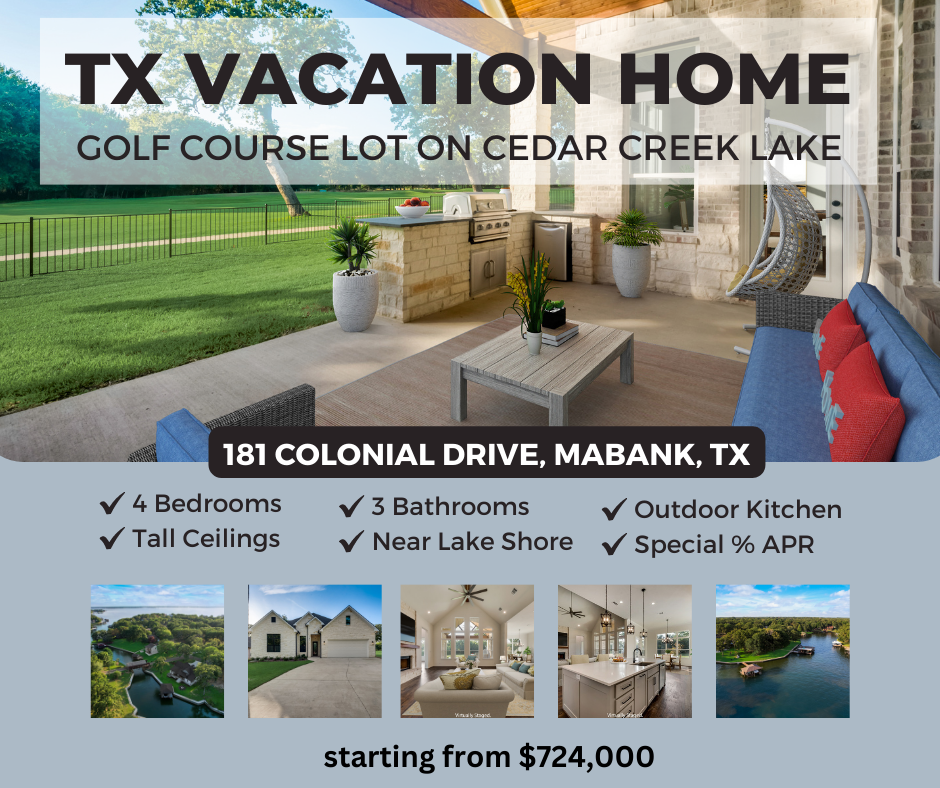 Instagram Image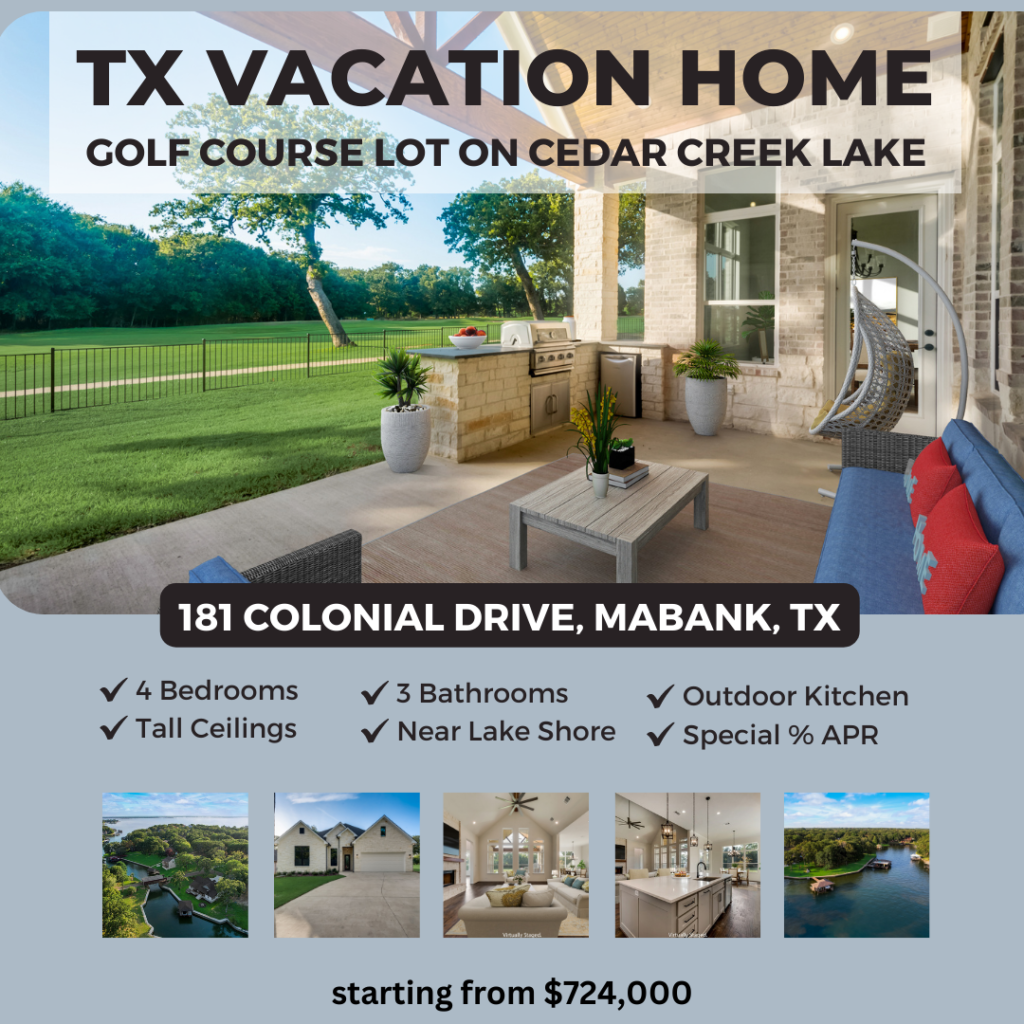 THIS TEXT WORKS WELL IN TWITTER:

🌟 Discover Texas Living: Your Dream Vacation Home Awaits! 🏡
🌊Golf Course Property Near a Lake in TX, 1 Hour from Dallas 🏌️‍♂️⛳️ Perfect as a Weekend Getaway or a Summer Home in This Fast Appreciating Area of TX.
🚣‍♂️ Enjoy Fishing, Boating & Golfing Year Around with Family. Create cherished memories that last a lifetime. 🏠❤️
📞 Need more details? Call/text me today. 🌟 YOUR NAME, YOUR PHONE NUMBER https://youtu.be/lzdHgtBU0cw
SENDING A PERSONAL EMAIL TO YOUR DATABASE
If you want to re-engage someone in your database, or to check who in your database is thinking about buying a golf course home, I recommend sending an email message with a catchy subject line. Here are just some examples, I am sure you can think of even better ones.
EXAMPLES OF SUBJECT LINES
"Unwind by the Lake: Texas Vacation Homes for You 🚤"
"Lakefront Living: Discover Texas Vacation Homes 🌅"
"Your Gateway to Bliss: Texas Vacation Homes by the Lake 🏖️"
"Escape to Serenity: Texas Lakefront Vacation Homes 🌊"
"Make Memories While Investing Smart: Texas Vacation Homes 🏡"
"Lake Lovers' Paradise: Explore Texas Vacation Homes 🚣‍♂️"
"Experience Tranquility: Texas Vacation Homes by the Water 🌊"
"Elevate Your Vacations: Texas Lakefront Homes for Sale 🚤"
EXAMPLE OF PERSONAL EMAIL TO AN OLD LEAD OR AN EX-CLIENT:
Hi [Client's Name],
As someone who knows a good vacation property when I see one, I wanted to reach out and share something that I recently saw online that you might find interesting.
Have you ever considered owning a vacation home in the state of Texas? Imagine having your own serene retreat, nestled within a prestigious golf and boating community just minutes away from a beautiful lake called Cedar Creek Reservoir. The lake is about 1 hour drive from Dallas, TX and it is a popular destination for fishing, water sports, and hiking. If you or someone you know travel to Texas often, you might consider owning this fun vacation home.
🏡 Embrace Luxury in Nature: Your Texas Vacation Home on the Lake! 🌲
This brand-new property offers the best of both worlds – upscale living on the golf course and easy access to water sports and lakeside activities. Take a look at the video of the property to appreciate its potential: https://youtu.be/lzdHgtBU0cw
If you or anyone you know has considered owning a vacation home in Texas, I'd be thrilled to share more details about this property. Also, I may have information about other properties in Texas and other states that you might find interesting.
Feel free to call, text, or PM me at PHONE.
Warmest regards, NAME, PHONE
---
HASHTAGS THAT COULD BE USED WITH THIS PROPERTY:
#TexasVacationHome #VacationLife #LiveInTexas #HomeAwayFromHome #EscapeToTexas #RetreatInParadise #TexasLiving #AdventureAwaits #InvestInTexas #VacationHomeForSale #ExploreTexas #LoneStarState #Moving2Texas #Moving2TX
#LakesideSanctuary #EscapeTheStress #PinnacleGolfAndBoatClub #CedarCreekReservoir #MabankTX #TranquilRetreat #NatureEscape #PeacefulLiving #GolfingCommunity #StressFreeZone #QuietGetaway #NatureEscape #BusyProfessionals #LakeHome #GolfingCommunity #LakesideLiving #GolfLife #GolfProperty #GolfCourseHome #GolfersParadise #GolfHomesForSale #GolfersRetreat #GolfCourseLivingTX #GolfCourseCommunity #GolfersDreamHome #GolfCourseViews #LuxuryGolfLiving #GolfHomeForSale #LakeLife #LakeLiving #LakeCommunity #LakeHouse #LakeRetreat #LakeLifeStyle #BoatParty #BoatOwnership #BoatDreams #BoatLife⚓ #Watersports #WaterSportsFun #WaterSportsLife #WaterSkiing #JetSkiing #LakeActivities #LakeLifeFun
If you need more info on the house or you want to clarify any other questions, feel free to call/text/email me!
Elena Garrett, Realtor
Keller Williams Central 75
(469) 371 4961
egarrett@kw.com
---
Help me to share the message!