181 Colonial Drive, Mabank, TX – Marketing Info (TX) – MLS #2038462
Help me to share the message!
Dear Realtors,
Feel free to copy and share the text, the pictures, and the video on the social media or among your prospects. As a listing agent for this property, I am giving my permission for you to use these images, videos, and texts.
In the image, if you want to add your phone number or info, feel free to do so.
Feel free to change up the text of the post if you wish!
PROPERTY:
181 Colonial Dr, Mabank, TX 75156 – $724,000
MLS #20384620
Zillow link: https://www.zillow.com/homedetails/181-Colonial-Dr-Mabank-TX-75156/2087940814_zpid/
THIS POST BELOW CAN WORK WELL FOR FACEBOOK AND INSTAGRAM
🌊Attention avid golfers! Check out this newly built home near the Cedar Creek Reservoir in Texas 🏌️‍♂️⛳️
🏖️ This brand-new home in the exclusive Pinnacle Golf and Boat Club (about 1 hour from Dallas, TX) is backing up to a prestigious Pinnacle golf course, with great views on the golf course from the master bedroom and other rooms in the house. The house is also about 5 minutes away from the Cedar Creek lake shore, in case you decide to do jet skiing, fishing, or what not.
🌅 Have you ever dreamed of having a summer home on a golf club? 🌟 Well, then don't miss out on this incredible opportunity – life is short, do not postpone your dreams!
Want to see more pictures of this home? Let me know.
Need to see homes in other locations? Call me and let me know what areas you are hoping to move to! I am here to help!
(Your name, Your contact number)
Facebook Image: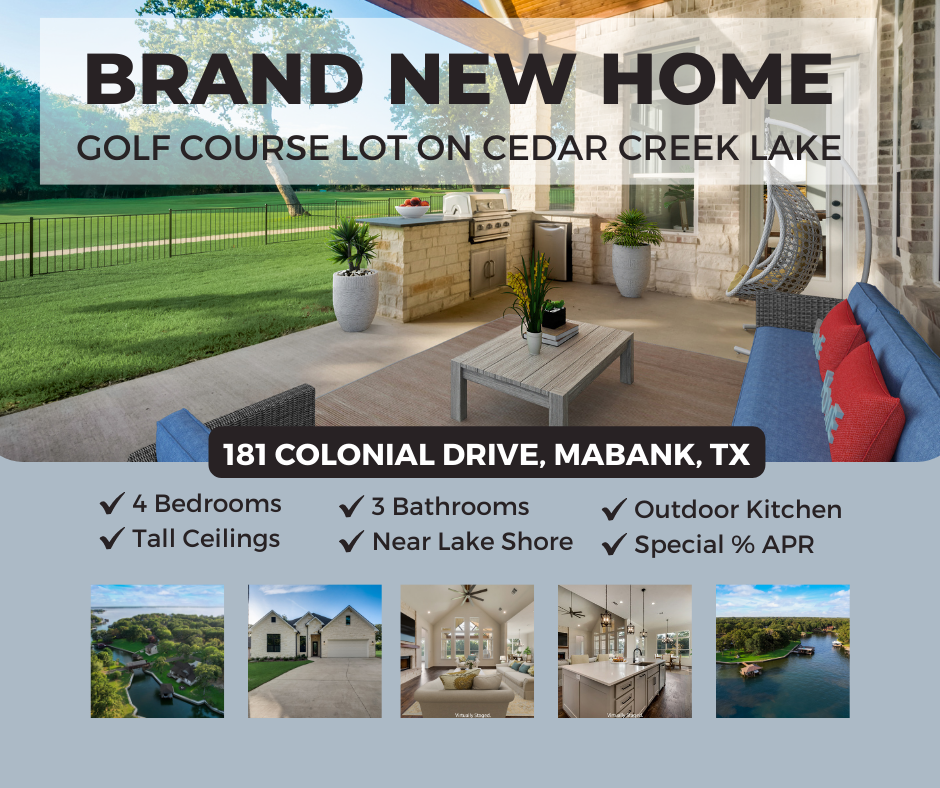 Instagram Image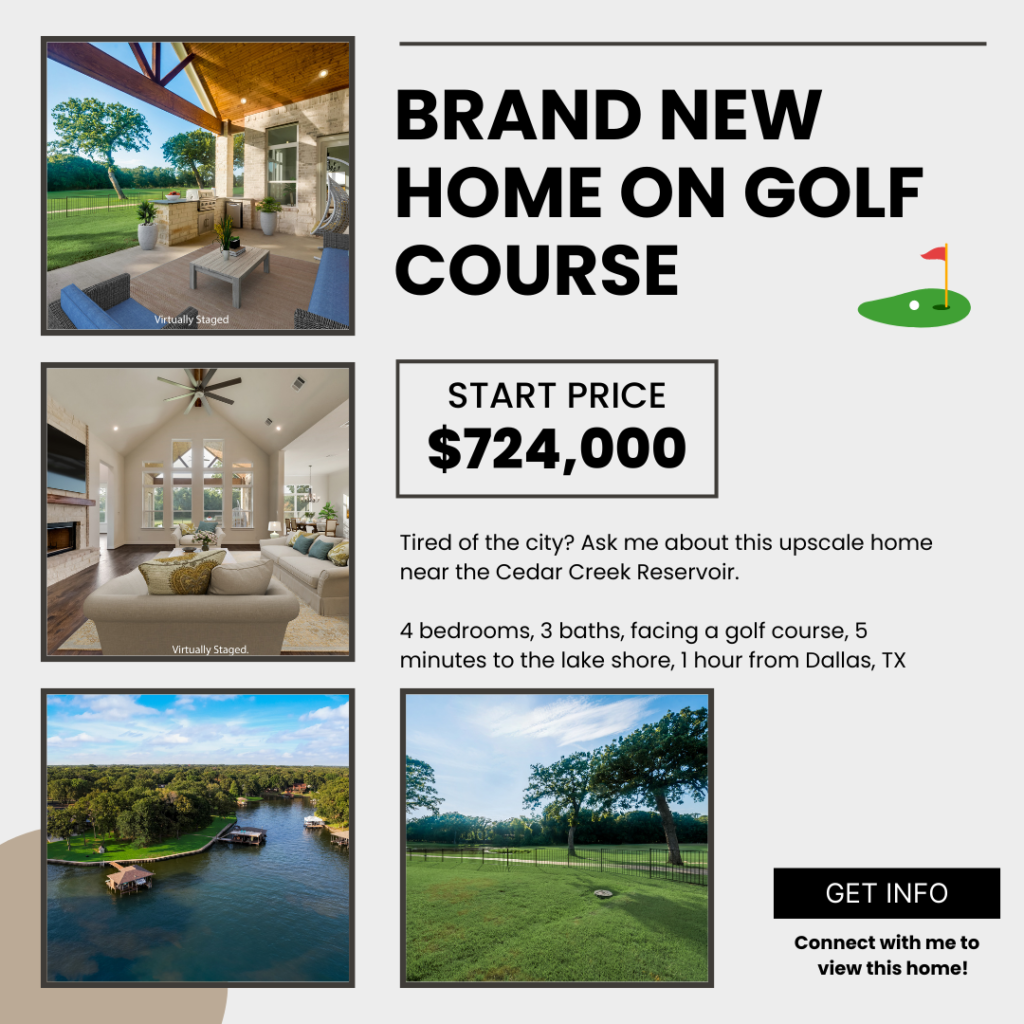 THIS TEXT WORKS WELL IN TWITTER:

🌊Golf Course Property Near a Lake 🏌️‍♂️⛳️
🏖️ New Home at Pinnacle Golf & Boat Club in Mabank 🏡
🛌 4 Beds | 🛁 3 Baths, Close to the Shore
🚣‍♂️ Enjoy Fishing, Boating & Golfing!
🌲 Gated Community on the Cedar Creek Reservoir, 1 Hour from Dallas
🏞️ Perfect for Weekend Getaway or Summer Home
📞 Call/Text for Private Tour! 🌟 YOUR NAME, YOUR PHONE NUMBER
HASHTAGS THAT COULD BE USED WITH THIS POST TO INCREASE POST VISIBILITY:
#LakesideSanctuary #EscapeTheStress #PinnacleGolfAndBoatClub #CedarCreekReservoir #MabankTX #TranquilRetreat #NatureEscape #PeacefulLiving #GolfingCommunity #StressFreeZone #QuietGetaway #NatureEscape #BusyProfessionals #LakeHome #GolfingCommunity #LakesideLiving #GolfLife #GolfProperty #GolfCourseHome #GolfersParadise #GolfHomesForSale #GolfersRetreat #GolfCourseLivingTX #GolfCourseCommunity #GolfersDreamHome #GolfCourseViews #LuxuryGolfLiving #GolfHomeForSale #LakeLife #LakeLiving #LakeCommunity #LakeHouse #LakeRetreat #LakeLifeStyle #BoatParty #BoatOwnership #BoatDreams #BoatLife⚓ #Watersports #WaterSportsFun #WaterSportsLife #WaterSkiing #JetSkiing #LakeActivities #LakeLifeFun
SENDING A PERSONAL EMAIL TO YOUR DATABASE
If you want to re-engage someone in your database, or to check who in your database is thinking about buying a golf course home, I recommend sending an email message with a catchy subject line. Here are just some examples, I am sure you can think of even better ones.
EXAMPLES OF SUBJECT LINES
Why Not Picture Yourself in Your Dream Golf Course Home?
Why Not Own a Vacation Home on the Golf Course?
Why Not Turn Your Dreams into Reality with a Golf Course Home?
Why Not Enjoy Lakeside Serenity and Luxury Living?
Why Not Indulge in the Best of Both Worlds – Lake, Golf, and Luxury?
Why Not Explore Your Lakefront Living Options?
Why Not Make Every Day a Lakeside Getaway?
Reconnect with Nature: Buy A Private Lakeside Retreat 🦌🌿
🌅 Escape the Daily Grind: A Summer Home on Lake Side
Calling All Nature Lovers: This Mayt Be Your Lakeside Paradise 🌄
Embrace Luxury in Nature: Buy Your Next Home on This Lake! 🌲
Embrace Lakeside Luxury: Find Your Perfect Home in Nature 🏞️🏡
Embrace Lakeside Living: Find Your Serene Dream Home 🏖️🏡
EXAMPLE OF PERSONAL EMAIL TO AN OLD LEAD OR AN EX-CLIENT:
Hi [Client's Name],
It's been a while since we last connected, and I wanted to reach out to see how things have been going for you and your family? I hope life has been treating you kindly and that you've been finding some time to unwind and relax this Summer!
Recently, I came across an interesting home that I thought that you might find interesting. There's a really interesting property currently available at the exclusive Pinnacle Golf and Boat Club – have you heard of them? They are becoming very popular. The house has golf course views and it sits near the edge of Cedar Creek Reservoir. The community has lots of active lifestyle activities like boating, fishing, etc.
I can't help but think that this could be your perfect lakeside retreat for your family.
Here is the link to the property info: https://www.zillow.com/homedetails/181-Colonial-Dr-Mabank-TX-75156/2087940814_zpid
Also, if you know anyone else who might be interested in finding their perfect summer house on the golf course or by the lake, I have an exclusive list of available homes that I'd be happy to share.
Feel free to call, text, or private message me for any further information.
Looking forward to reconnecting
Warmest regards, NAME, PHONE
---
Thank you for taking a moment to take a look at my pre-built marketing campaign. I am hoping we both can find a client for this beautiful home!
Elena Garrett, Realtor
Keller Williams Central 75
(469) 371 4961
egarrett@kw.com
---
Help me to share the message!